There is a debate that goes on in every office across the country, and this past week, the debate reached the lovely beachfront offices of Analog Creative. It's a question that has stumped even the greatest thinkers of this generation, and that question is this: Who is hotter- Ryan Gosling or Ryan Reynolds?
Points were made, concerns raised, counter arguments assessed and objections sustained. In the end, when the tears had been mopped up and hydrogen peroxide had been dabbed on scratches and bite marks, we decided to approach the topic as civilly as one can in these United States. We forced the handsome Canadian duo into a series of competitions to determine which one was in fact the Ryan of record. Hotness, in this competition, has to be measured objectively so we broke it into easier-to-measure metrics like movie quantity/quality, manliness and money earned (among other things).
Meet our contestants:
Ryan Reynolds

Age: 36
Hometown: Vancouver, British Columbia
Best Indie Flick: Buried
Highest Grossing Film: X-Men Origins: Wolverine
Ryan Gosling

Age: 32
Hometown: London, Ontario
Best Indie Flick: Lars And The Real Girl
Highest Grossing Film: The Notebook
Movies:
Both gentlemen have shown incredible acting range and talent, playing roles in everything from small independent flicks and massive blockbusters. However, Reynolds has definitely made more of a name as a movie star, taking iconic roles like the Green Lantern, Deadpool, and even Van Wilder, and also playing romantic leads in movies like Definitely, Maybe and The Proposal. His roles in smaller, independent films have earned him critical acclaim, including Buried, where he spends the filmwellwe'll let you guess.
Gosling is no slouch when it comes to movies, but he seems to have been typecast into the role of playing a dashingly handsome hero. Many of his films, to date, feature him as a shirtless hottie, We do see his ability shine through when he portrays the complex character of Lars as so very awkward in Lars and the Real Girl, his discomfort is tangible, and yet he still manages to be endearing and completely lovable. This guy can deliver.
The results of this particular category may change over time as Gosling builds on his portfolio of work, but right now as far as domestic gross is concerned, Reynolds is the victor.
Winner: Reynolds
'Mato Meter:
While quantity certainly favored Reynolds in the last category, the quality of his material is worth considering. Gosling on the other hand seems to select beautifully crafted, intelligent scripts, and is rewarded with admiring critics and audiences alike. With a high of 100% for 2012's The Place Beyond The Pines and a majority of his films certified fresh, Gosling is the clear winner in this category. In fact, Gosling starred in five films rated higher than Reynolds with the highest rated being Adventureland.
Reynolds didn't fare quite so well, averaging just 46% for his many films, with a low of 18% for National Lampoon's Van Wilder; the film that to all intents and purposes launched his career. That's a full 20% lower than Gosling's average.
Winner: Gosling
Meme:
Women love Gosling. His handsome charm and roles in movies like The Notebook have earned him the infinite honor of becoming an Internet meme. The "Hey Girl" meme is ubiquitous as the ladies of the world wide web write themselves Valentines and love notes from a puppy-eyed Gosling.
Fans of Reynolds tried a meme of their own but it never quite caught on.
Winner: Gosling
Macho:
This was an easy one: How many Ryan Gosling action figures are out there? Ryan Reynolds has a half dozen for playing roles like Deadpool and the Green Lantern. And yes, that's how I'm determining machismo in this category. Ryan Gosling's only role that would justify an action figure was his role as "the Driver" in Drive and, frankly, I'd be creeped out if I saw my kid playing with it, smashing a tiny hammer into the head of a broken G.I. Joe.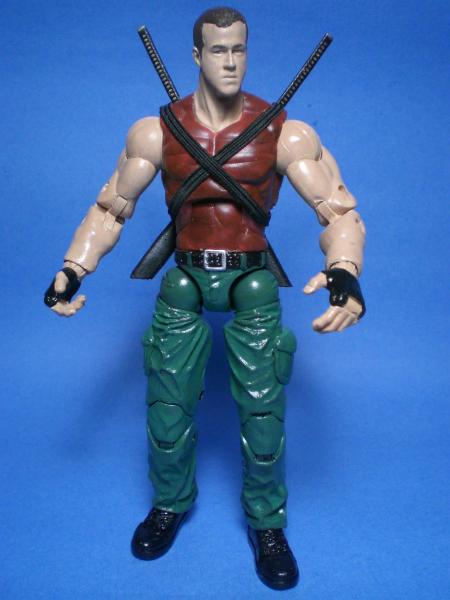 Winner: DeadpoolI mean, Reynolds.
Moves:
This video of a preteen Gosling moving and shaking at a talent show in 1991 sealed this victory for him. Reynolds can't touch this.
Winner: Gosling
Manners:
On account of them both being Canadian, it is impossible to accurately assess this category.
Winner: Tie.
Money:
Surprisingly, this category goes to Gosling. According to celebritynetworth.com (a website I have no choice but to trust) Gosling is worth $5 million more than Reynolds, however, with Reynolds upcoming roles starring in a Deadpool movie and as The Highlander, he may soon overtake his compatriot.
Winner: Gosling, for now.
Bottom Line:
It can't be denied that while Reynolds is indisputably handsome, Gosling beats him hands down. Though this competition is a lot closer than the 4-2 scoring might suggest, the choice for most handsome Canadian Ryan is of a Gosling variety. That doesn't mean there's not room for debate, but as long as Gosling is putting out movie posters like this, it's going to be an uphill battle for Reynolds.